"These last couple of years of small group coaching made me realize why I got into coaching in the first place"

Coach Hoffer has 25 years of experience coaching Division I college swimming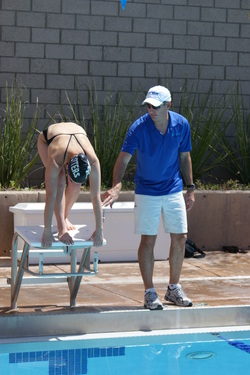 Brian was born and raised in Phoenix. The Arizona native graduated from Shadow Mountain High School and received a degree in Psychology from Arizona State. The plan was to become a teacher and high school swim coach after coaching at Shadow Mountain High School for some years. It all changed when ASU offered their very first full time assistant job to Hoffer. "That was an exciting time for me because ASU was trying to build both programs and I felt a tremendous responsibility to get the job done," Coach Hoffer reflected about those early years. ASU got the job done after that with both Men and Women's teams improving into the top 10 in the nation. "The opportunity to coach Olympians, NCAA finalists and International athletes allowed me to learn what the best do to get better" Hoffer pointed out.

The next step was when the University of Missouri came calling. Hoffer steadily and consistently improved a little known program into a national name in swimming. He focused on technique and building a strong team concept in the early years. "We really had to teach high school level athletes how to become elite in their strokes, turns and finishes while building a strong work ethic" he remembers. As the team kept getting more wins, better athletes were attracted to the program and Missouri rocketed into one of the top 25 programs in the country. Hoffer built a program that focused on the important aspects of the sport. Technique, work ethic, academics and being responsible were the themes that built his nationally ranked teams.

Once a 50 meter pool was built at Mizzou the fun really began. Hoffer's teams began to really take off with more athletes going to the NCAA's, scoring at the US Open, International athletes representing their National Team as well as World Championships. Hoffer's teams broke over 50 school records in his 2009 and 2010 seasons.

Coach Hoffer and his wife, Pam, also built one of the best swim camps in college swimming from 2003-2009. In the last 3 years, Mizzou Swim Camp had over 1000 swimmers attend in order to get technique based coaching that was used to compliment the club and high school experience.

Coach Hoffer has added to his resume in the summer of 2011. He became the Head Coach of Phoenix Swim Club and had the opportunity to coach the team to a Senior State Championship. He also took a group of athletes to both the Sectional Championships and Junior Nationals. Coach Hoffer is the Head Coach at Xavier College Prep and won the 2012 Arizona State High School Championship.

Hoffer also has extensive experience coaching Triathletes, Master's Swimmers and Open Water athletes. "I really hope to work with these athletes. My experiences throughout my coaching career offers valuable insight for these particular athletes."

Hoffer lives in Phoenix with his wife Pam and two kids.
________________________________________________

Career dual record is 226-134-1
Coached numerous World Ranked Swimmers
Coached athletes at 5 different Olympic Trials
Coached athletes from 12 different nations to final at their National Championships
Coached NCAA All Americans
Coached U.S. Open and Senior National finalist
5 time Conference Coach of the Year (Big 8 and Big 12 )
Coached an athlete to 2nd place at 5K Open Water National Championship
Coached athletes at Olympics, World Championships, European Championships and World University Games
Coached Big 12 Conference Champions and Finalist
Coached Club swimmers at Junior National Championships
Coached 2012 Arizona State High School Champions Xavier College Prep.
Currently working with numerous nationally ranked club swimmers in his clinics and private lessons.